Company Profile
Real Softeck (P) Ltd. the unique software company in North Kanara. The company was incorporated in 1994 as a specialized venture catering to the niche software market. The company has shown phenomenal growth to its expectation and offers specialized high quality services in many complementary areas of Information Technology.
The Company's business focuses on the design, development and implementation of Banking and Commercial Applications. The major thrust of the company is to operate in those application areas where Information Technology has the potential to contribute towards bottom line results.
Real Softeck (P) Ltd. provides consulting and full life cycle development of e-commerce, web and client/server applications to its clients. Real Softeck (P) Ltd. provides offshore software development, maintenance and quality assurance services through its development center located at SIRSI, Noth Kanara, Karnataka, INDIA.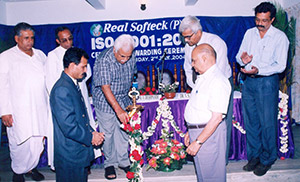 It is the first IT venture in private and organized sector in North Kanara and is successful in IT venture since 1994. Real Softeck (P) Ltd. is now a market leader in Karnataka and Goa State. Leading Software Development Company in Karnataka. It has withstood competition because of its commitment to price, quality and service. Real Softeck (P) Ltd. offers a comprehensive range of products and customized services that enable financial institutions and respond rapidly to market needs, enhance customer service levels and mitigate risk.
Our Expertise
.NET / ASP.NET
AJAX / Silver light
Oracle
Microstoft SQL Server
My SQL
Java & Java Script
VB Script
Visual Studio .NET
PHP
Python


Off The Shelf Products
Scheduled Banks
District Central Co-Op. Banks
Urban / Town Co-Op. Banks
Agricultural Banks
Vyavsaya Seva Sahakari Societies
Credit Co-Op. Societies
Credit Souhardhas